Creating the ring of your dreams is a collaborative effort that we take very seriously. We interpret your ideas into a gorgeous ring that reflects your personality and style. The ring you custom design and handcraft at Diamond Ring Studio is truly one of a kind.
IT'S A STEP BY STEP PROCESS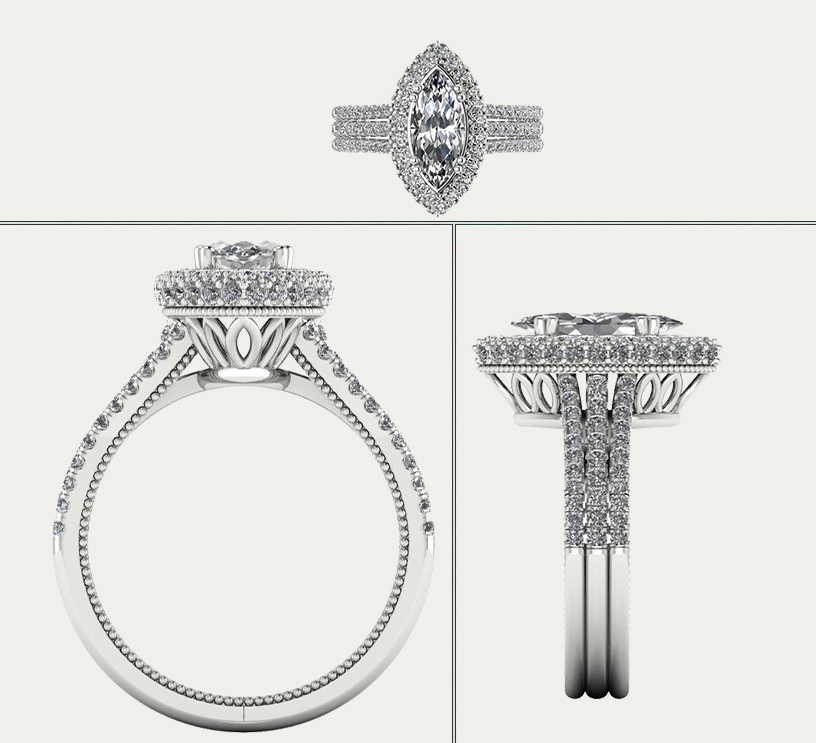 The first step in custom designing your ring is the personal design consultation. Meet with us so we can hear exactly what you envision. Our extensive models help you narrow down what you like and what does not appeal to you. We'll use sketches too if that helps to communicate your ideas before we start designing.
Custom Designed Jewellery Starts with a digital rendering
We make a custom digital rendering—so it will begin to take shape in a dimensional way that is easier to visualize. At this stage, you can approve what you see, or make modifications to get exactly the ring you want. Next stage is the resin model. A 3D produced model helps you see its contours, plus the relative size and shape. All of these steps are taken to ensure that you get the perfect ring that exceeds your dreams. At the point of your approval—we take it from there and complete its manufacture. Your ring is completely personalized to reflect your style and most of all—your love story as a unique couple.  From start to finish, you are involved in every step and that's just the way we like it. When Diamond Ring Studio says we custom-make rings—we mean it down to the finest detail. Ask us to tell you more.
INTERESTED IN A CUSTOM DESIGNED ENGAGEMENT RING?
Let our experience provide you with the most personalized customer care and the finest diamonds and settings available. Contact us to further the conversation about what you had in mind for your custom designed engagement ring. Our team at Diamond Ring Studio knows how to turn your dream ring into a sparkling reality!